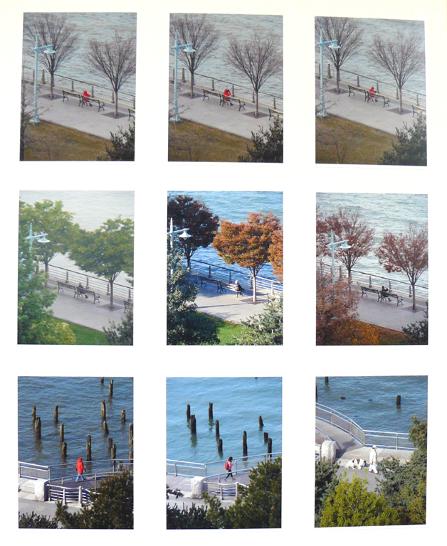 Decker's photographic images are the result of an ongoing inquiry into the possibilities for transformation in the everyday. They celebrate serendipitous findings filtered through a painter's sensibility. Texture, color, movement and ambiguity of scale come into play in works derived from both natural and inorganic sources. Conceptually, the work is simply about being present. Other ongoing series include portraiture, still life, flora and fauna, and street photography.
For a series-in-progress begun January 1, 2011, Decker shoots what she sees every morning from her Westbeth perch overlooking the Hudson River. On view now thru Oct. 31 at MBP Gale A. Brewer's office gallery, 225 images document the flow of time and represent a departure from the photographs she usually takes. Candid glimpses of narrative moments in peoples' lives, these cinematic sequences and leitmotifs record the transformation of a landscape as weather and season change, turning people and their animals into miniature figures in a living scroll painting.

Links to additional photographic images:http://www.pwponline.org/member/view/elisa-decker
http://elidecker.nyartistscircle.org
http://ps1.org/studio-visit/artist/elisa-decker
Though anchored in reality, Decker's paintings and pastels have an otherworldly quality that invites the viewer on a magical journey. As the artist examines the ways in which nature corresponds with her internal life, her approach to realism takes a metaphysical turn. Organic weathered forms undulate in a shimmering dance. Mysterious crevices lead to secret places and hidden treasures. Swirling roots and limbs pulse and vibrate in a visceral landscape revealing the spectral, fairy-tale shapes of the imagination. Broad suggestive passages combined with attention to fine detail produce a combination of dreaminess and earthiness. Entering the worlds within worlds of these multi-layered pieces, the viewer is invited to partake in a participation mystique, a communion with the numinous in nature.

Links to paintings and drawings:
http://www.saatchionline.com/profiles/index/id/5299
http://www.sketchbookproject.com/library/12200
Elisa Decker received a B.F.A., summa cum laude from the Maryland Institute College of Art (MICA). She has exhibited extensively since 1975 and has work in the permanent collections of Pfizer Inc., Peter Hay Halpert, International Art Studio, Valievo, Altos de Chavon, Rocky Mountain National Park, Colorado and in many private collections. Ms. Decker is an exhibiting member of Professional Women Photographers (PWP). In 2008, her work was featured in PWP magazine's March/June Issue XXV.
A reviewer for Art in America magazine since 2004, Decker also organizes and leads art gallery walks, and is an Adjunct Assistant Professor at Borough of Manhattan Community College (CUNY), where she has been teaching drawing since 2006.

Exhibitions in 2014
Hudson River Park Series, October 2014, Manhattan Borough President's Office
Time Frames Marking Time, May24-June 15, 2014, Westbeth Gallery, (19 artists), co-curated with Barbara Lubliner
Exhibitions in 2013:
Through August 17, at the Crest Hardware Art Show in Williamsburg, New York.

Women Inspired, Grady Alexis Gallery, El Taller Latino Americano, juried and curated by Andrea Arroyo for PWP.

Abundance & Scarcity, PWP, Calumet Photo Gallery

Collective Currents, Contemporary Artists Guild, Manhattan Borough President Gallery.

In 2012, her work was chosen for a MICA Alumni Exhibition, "Spattered Columns/Art Connects New York." A solo show of Decker's photographs was held at the Gallery of the Manhattan Borough President's Office in New York City in March 2010. The Ultimate Eye Foundation selected her photograph, "Cursive Indigo" for "Waking Dreams" at Peninsula Museum of Art, Calif. (2008). She received a cash award for "Incognito" in a juried show at Kauffman Gallery, Shippensburg University, PA (2008). A 30-year survey of Decker's photographs, paintings and drawings was on view Oct 8-Nov 8, 2005 at the Westbeth Gallery, NYC.

Ms. Decker was awarded a 2003 Camargo Foundation grant and residency in Cassis France, which was followed by a solo exhibition of her photographs at Pfizer in 2004. Other fellowships include the MacDowell Colony, the Millay Colony, I-Park, Fundacion Valparaiso, Altos de Chavon, Chateau de Rochefort-en-Terre, Chateau de Lesvault, Fondation Karolyi, Ragdale Foundation, William Allen White Cabin, Villa Montalvo Ctr for the Arts and Ossabaw Island.


Thanks for visiting my website! I hope you will join my mailing list to receive exhibition and event updates: email me at elidecker2@gmail.com


Above image: Red Eye ©2010 Elisa Decker
archival pigment print
Below image: Cosmos ©2007 Elisa Decker
archival pigment print