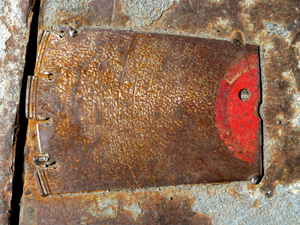 Decker's photographs celebrate serendipitous findings,ambiguities and the possibilities for transformation in the everyday. While she sometimes incorporates digital manipulation and compositing, most of her images are straight shots that challenge common ways of seeing. Her background as a painter comes through in works that zero in on colors, lines and textures, isolating the abstract forms in roots, ice floes, fallen leaves, reflections, rock formations or fishing nets as well in gritty urban features like rusted metal, graffiti, torn billboards, faded walls, sidewalks, and construction sites. Eroded by time and the elements or transformed by light, these "paintings" catch her eye as Decker records what most often goes unnoticed.
Though anchored in reality, Decker's paintings and pastels have an otherworldly quality that invites the viewer on a magical journey. As the artist examines the ways in which nature corresponds with her internal life, her approach to realism takes a metaphysical turn. Organic weathered forms undulate in a shimmering dance. Mysterious crevices lead to secret places and hidden treasures. Swirling roots and limbs pulse and vibrate in a visceral landscape revealing the spectral, fairy-tale shapes of the imagination. Broad suggestive passages combined with attention to fine detail produce a combination of dreaminess and earthiness. Entering the worlds within worlds of these multi-layered pieces, the viewer is invited to partake in a participation mystique, a communion with the numinous in nature.
Elisa Decker received a B.F.A., summa cum laude from the Maryland Institute of Art. She has exhibited extensively since 1975 and has work in the permanent collections of Pfizer Inc., Peter Hay Halpert, International Art Studio, Valievo, Altos de Chavon, Rocky Mountain National Park, Colorado and in many private collections. Ms. Decker is an exhibiting member of Professional Women Photographers (PWP). In 2008, her work was featured in PWP magazine's March/June Issue XXV. She leads art tours for the Brooklyn section of NCJW and Context Travel, has been an adjunct instructor in drawing at CUNY-BMCC since 2006 and a reviewer for Art in America magazine since 2004.
In March 2010, a solo show of Decker's photographs was held at the Gallery of the Manhattan Borough President's Office in New York City. The Ultimate Eye Foundation selected her photograph, "Cursive Indigo" for "Waking Dreams" at Peninsula Museum of Art, Calif. (2008). She received a cash award for "Incognito" in a juried show at Kauffman Gallery, Shippensburg University, PA (2008). A 30-year survey of Decker's photographs, paintings and drawings was on view Oct 8-Nov 8, 2005 at the Westbeth Gallery, NYC.
Ms. Decker was awarded a 2003 Camargo Foundation grant and residency in Cassis France, which was followed by a solo exhibition of her photographs at Pfizer in 2004. Other fellowships include the MacDowell Colony, the Millay Colony, I-Park, Fundacion Valparaiso, Altos de Chavon, Chateau de Rochefort-en-Terre, Chateau de Lesvault, Fondation Karolyi, Ragdale Foundation, William Allen White Cabin, Villa Montalvo Ctr for the Arts and Ossabaw Island.
Above image: Red Eye ©2010 Elisa Decker
archival pigment print
Below image: Cosmos ©2007 Elisa Decker
archival pigment print